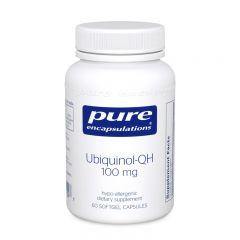 Ubiquinol-QH 100mg | Free shipping
Free shipping when total order exceeds $100
Ubiquinol-QH by Pure Encapsulations is an active antioxidant form of CoQ10; support for energy metabolism and cardiovascular health‡

Supports the immune system and cellular energy‡
Strong antioxidant protection‡
Made with hypoallergenic ingredients
Ubiquinol-QH is an antioxidant that is especially important for older individuals or individuals who may be experiencing greater levels of oxidative or physical stress. This antioxidant is best known to support cardiovascular health as well as promote cellular energy.‡
Ubiquinol-QH 100 mg
Supplement Facts
Each (size 14) softgel capsule contains:
Kaneka Ubiquinol™ (active antioxidant form of coenzyme Q10)

100 mg

Other ingredients: medium chain triglycerides, gelatin capsule (gelatin, glycerin, water), ascorbyl palmitate, sunflower lecithin, beeswax, annatto suspension in sunflower oil
Q+®, Kaneka Ubiquinol™ and the quality seal™ are registered or pending trademarks of Kaneka Corp.
The use of ascorbyl palmitate in the formulation is covered by U.S. Patent 6,740,338.
1 capsule, 1-2 times daily, with meals.