Tru Niacin Pro 300mg or 500mg (30 caps/ bottle)
Tru Niagen® Pro is daily cellular energy support designed to help maintain your health, longer. Its key ingredient, Niagen® nicotinamide riboside, often referred to as 'NR', is a unique form of vitamin B3 clinically proven to safely boost NAD+ to support your cells' ability to generate energy.*
 
Your healthcare provider may have recommended Tru Niagen® Pro to provide you with cellular care to help you Age Better® and live better.*
 
New research on NR is constantly being published. Ask your healthcare provider to share the latest on the benefits of boosting NAD+ to support cellular health.
Read what people are saying about our super nutrient and the benefits of higher NAD+ levels.
Pro, you know you are getting the only clinically proven and FDA-notified form of NR.

Rigorous testing using internationally accepted safety protocols has confirmed the safety of Niagen® NR. Nine published clinical trials demonstrate that NR safely and effectively increases NAD+ in humans6-14. Niagen® NR has been successfully reviewed twice under the Food and Drug Administration's (FDA) New Dietary Ingredient (NDI) notification program for up to 300mg. It has also been successfully notified to the FDA as generally recognized as safe (GRAS) at levels up to 180mg/day and has been reviewed by an expert panel for self-affirmed (GRAS) for up to 500mg in dietary supplements provided by HCPs.
A Safe, Evidence-Based Approach To Ongoing Cellular Health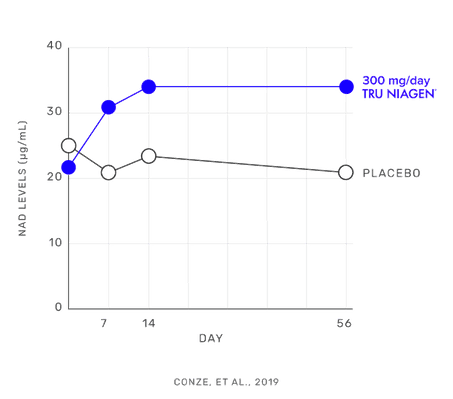 take it, the study showed that it takes about two weeks to fully increase NAD+ levels to a new elevated level. With continued use, participants experienced a sustained 40% to 50% increase in NAD+ levels by the end of the eight-week study9

Whatever your experience, you can feel confident that the science shows that NR is hard at work, boosting NAD+ at the cellular level.* The longer you take Tru Niagen® Pro, the more opportunities you'll have to reap the benefits without adverse side effects.
Ask your healthcare professional about 
Tru Niagen® PRO today.
* These statements have not been evaluated by the Food and Drug Administration. This product is not intended to diagnose, treat, cure, or prevent any disease.
© 2021 ChromaDex, Inc. All Rights Reserved.
After months of TRU NIAGEN I have more stamina and feel great....I also have been exercising more and losing weight, I feel this is an effective vitamin and will continue to use it long term. Much thanks.

At this time, I cannot identify any health benefits that I have experienced. However, I am encouraged to continue taking this product, based on the scientific research regarding the role of NAD+ in human health. Plus, laboratory analysis has shown that TRU NIAGEN's product is of high quality and contains the specified ingredients in the quantities shown in the "list of ingredients" displayed on the container.

A Supplement Based on Solid Scientific Studies
More important than what number you write down on the form is how you are aging, the way you feel, the energy you bring to each day, the time it takes to heal after a physical challenge, the resilience you display to stresses in life. TRU NIAGEN doesn't stop the clock, but it certainly has improved the quality of my years.

Replenish NAD levels* 6-14

Increase cellular energy 
production* 8, 15, 16

Support healthy cellular metabolism* 8, 15, 16

Promote cellular repair* 15-19

Promote healthy aging* 1-4
Tru Niagen® Pro is available in 300mg and 500mg dose options.
Tru Niagen® Pro offers you the highest dose of Niagen® NR per capsule (500mg) and is available exclusively through your healthcare provider.
Tru Niagen® does not contain caffeine, animal byproducts, artificial flavors or colors and is formulated without nuts or gluten.
Take as directed by your healthcare provider, at the same time each day, with or without food.
How to take 
Tru Niagen
®
 Pro?
Niagen® has also been reviewed and accepted by three of the most rigorous regulatory bodies in the world—US Food and Drug Administration (FDA), European Commission, and Therapeutic Goods Administration of Australia, and has been authorized for sale in finished products by Health Canada.

Its key ingredient has now been studied in more than 100 preclinical investigations and has multiple published human trials, with more than 40 ongoing.

Tru Niagen® products bearing the NSF Certified for Sport® seal undergo additional testing from NSF International, helping everyone from professional athletes to everyday workout warriors verify they are making a safe supplement choice.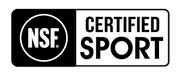 Tru Niagen® increases NAD+ by 40–50% after 8 weeks
Adding Health To Years
An elevated choice for pro consumers for added benefits. Tru Niagen® PRO 500mg delivers 500mg of Niagen®, or nicotinamide riboside, increasing NAD+ an estimated 80% for**
Cellular Repair*
Increased Cellular Energy*
Increased Mitochondria Support*
Maintaining NAD+ levels is vital for counteracting metabolic stressors such as lack of sleep, lack of exercise, poor diet, and alcohol consumption. * Tru Niagen® PRO 500 is cellular defense for life.*