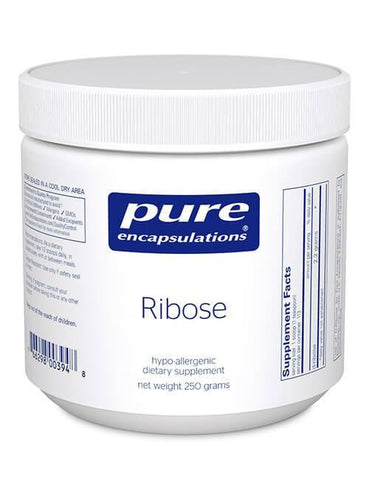 Ribose Powder (250mg) | Free shipping
Free shipping applies when total order exceeds $100.
Ribose Powder by Pure Encapsulations:  Supports mitochondrial function for patients with chronic inflammation, fatigue, brain fog, insomnia, and leaky gut.  
Supports rapid energy repletion for intense physical activity‡
Promotes muscle energy metabolism‡
Made with hypoallergenic, vegan ingredients
Convenient powder formula for easy dispensing
Ribose is designed to promote rapid regeneration of critical energy molecules for maximum training when taken before, during or after high-intensity exercise. Ribose specifically helps replenish depleted adenine nucleotide pools.‡
Ribose
Supplement Facts
Serving size: 1 scoop (approximately 2.2 g)

D-Ribose

2.2 g

Use of D-Ribose by Pure Encapsulations is authorized by Bioenergy, Inc. under U.S. Patents 6,159,942 and 6,534,480.
1 heaping scoop, 1-2 times daily, with or between meals.