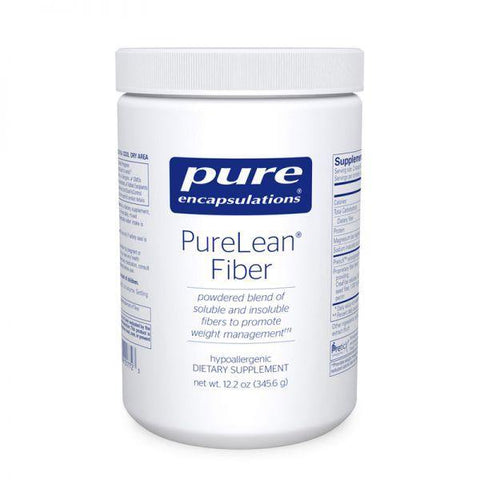 PureLean Fiber 343g Free Shipping!
Powdered blend of prebiotics, plus soluble and insoluble fibers to promote weight management as part of a healthy lifestyle with a reduced-calorie diet and regular exercise‡
Supports healthy fiber intake for optimal digestive health‡
Promotes weight management†
Made with hypoallergenic, vegan ingredients
Convenient powder formula for easy dispensing
PureLean® Fiber is a blend of insoluble and soluble fibers to support digestive health, nutrient absorption and regularity. PureLean® Fiber also promotes healthy glycemic response and overall weight management when combined with a reduced calorie diet and regular exercise.‡
Supplemental Facts
two scoops (approximately 14.4 g) contain:

calories

40

total carbohydrate

8 g

dietary fiber

6 g

sugar alcohols

2 g

protein

1 g

magnesium (as magnesium citrate)

100 mg

sodium (naturally occurring)

300 mg

PreticX™ xylooligosaacharides

700 mg

proprietary fiber blend

10 g

providing:
CreaFibe cellulose, Sunfiber® partially hydrolyzed guar gum, flax seed fiber, 1,000 mg glucomannan, prune fruit powder, apple pectin
other ingredients: xylitol, luo han guo (Momordica grosvenori) extract (fruit)
Sunfiber® is a registered trademark of Taiyo International, Inc.
Xylooligosaccharide. PreticX™ is covered by registered and pending patents. PreticX™ is a trademark of AIDP, Inc. PreticX™ is distributed exclusively by AIDP, Inc.
serving size: 2 scoops (approximately 14.4 g)
servings per container: approximately 24
1 serving, 1-2 times daily, mixed with a beverage. Adequate water intake is recommended.