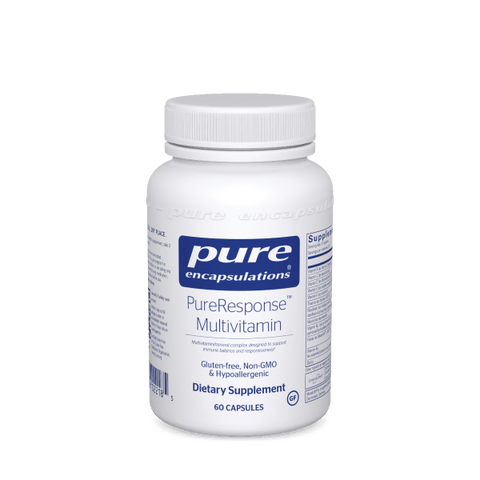 Pure Response Multivitamin Free Shipping
Designed to support key pivot points in immune function, including neutrophil and NK cell response, and cytokine production‡
Supports healthy cell-mediated immunity with a comprehensive blend of nutrients and reishi mushroom extract‡
Includes the adaptogen eleuthero to promote physiological balance and moderate occasional stress, including corticosterone activity, cytokine balance and nutrient metabolism‡
Certified Gluten-Free by the Gluten-Free Certification Organization, www.gluten.org‡
Supplemental Facts
two vegetarian capsules contain:

vitamin A (as vitamin A acetate)

1,500 mcg

vitamin C (as ascorbic acid)

100 mg

vitamin D (as cholecalciferol) (D3)

125 mcg (5,000 IU)

vitamin E (as d-alpha tocopherol succinate)

15 mg

vitamin K (as vitamin K1)

135 mcg

thiamin (as thiamin HCl) (B1)

5 mg

riboflavin (as riboflavin and 60% riboflavin-5-phosphate (activated B2))

5 mg

niacin (as niacinamide)

20 mg

vitamin B6 (as pyridoxine HCl and 76% pyridoxal-5-phosphate (activated B6))

10.4 mg

folate (as Metafolin®, L-5-MTHF)

667 mcg DFE (400 mcg L-5-MTHF)

vitamin B12 (as adenosylcobalamin and 50% hydroxycobalamin)

1,000 mcg

biotin

300 mcg

pantothenic acid (as calcium pantothenate) (B5)

50 mg

choline (as choline bitartrate)

20 mg

magnesium (as di-magnesium malate)(Albion®)

100 mg

zinc (as zinc citrate)

25 mg

selenium (as selenomethionine)

150 mcg

chromium (as chromium polynicotinate)

200 mcg

molybdenum (as molybdenum glycinate chelate) (as TRAACS®)

150 mcg

potassium (as potassium citrate)

15 mg

vitamin K2 (as menaquinone-7)

45 mcg

mixed tocopherols

20 mg

FloraGLO® lutein

3 mg

zeaxanthin

500 mcg

eleuthero (Eleutherococcus senticosus) extract (root)

125 mg

(standardized to contain 0.8% eleutherosides)

reishi (Ganoderma lucidum) extract (fruiting body)

75 mg

other ingredients: vegetarian capsule (cellulose, water), ascorbyl palmitate
Metafolin® is a registered Trademark of Merck KGaA, Darmstadt, Germany.
FloraGLO® is a registered trademark of Kemin Industries, Inc.
Zeaxanthin is sourced from OPTISHARP™ brand. OPTISHARP™ is a trademark of DSM Nutritional Products, Inc.
Albion® and TRAACS® are registered trademarks of Albion Laboratories, Inc. U.S. Patent 6,706,904.
ChromeMate® brand niacin-bound chromium. ChromeMate® is a trademark of InterHealth, N.I.
Vitamin K may be contraindicated with Coumadin (Warfarin). If you are pregnant or lactating, have any health condition or are taking any medication, particularly blood thinning medication, consult your health professional before use.
2 capsules daily, with a meal.