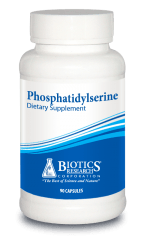 Phosphatidylserine 90 caps
Phosphatidylserine supplies a supplemental source of this important phospholipid, which is a structural part of biological membranes. Phosphatidylserine is involved in signal transduction activity, and may positively impact cognition.
Dosage: 
One (1) softgel capsule each day as a dietary supplement or as otherwise directed by a healthcare professional. 
Active Ingredients: 
Phosphatidylserine (soy lecithin) 100 mg. Calories 5, Calories from Fat 5, Total Fat 0.5g. 
Other Ingredients: 
Phospholipid complex†† (from soy lecithin) and capsule shell (gelatin, glycerin, polyglycitol syrup and water). ††Phospholipid complex is standardized to supply 100 mg of phosphatidylserine and also typically provides 25 mg phosphatidylcholine and 2.5 mg phosphatidylethanolamine. This product is gluten and dairy free. 
Product Warnings: 
KEEP OUT OF REACH OF CHILDREN.