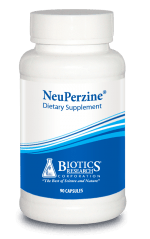 NeuPerzine 90 caps
NeuPerzine® is a natural sesquiterpene alkaloid compound extracted from the plant Huperzia serrata, and is a compound that is utilized in neurology for memory support.
Dosage: 
One (1) capsule taken one (1) to two (2) times each day as a dietary supplement or as otherwise directed by a healthcare professional. 
Active Ingredients: 
Huperzia serrata (aerial part) (extract), Huperzine A. 
Other Ingredients: 
Microcrystalline cellulose, capsule shell (gelatin and water) and magnesium stearate (vegetable source). 
Product Warnings: 
Not recommended for pregnant or lactating women. Not intended for prolonged use or for those with urinary retention due to obstruction and respiratory related conditions. KEEP OUT OF REACH OF CHILDREN.