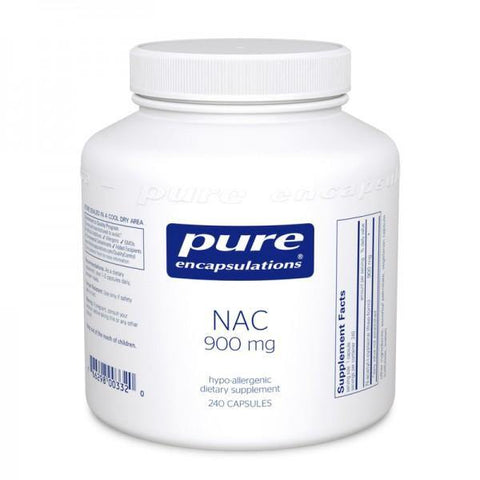 NAC (n-acetyl-l-cysteine) 900mg (120, 240 caps)| Free Shipping
Free ground shipping when the total order exceeds $100

NAC 900mg by Pure Encapsulations:  
Supports respiratory function, glutathione production and detoxification
‡
Supports antioxidant defense*
* N-Acetyl-l-Cysteine (NAC) is a derivative of the dietary amino acid l-cysteine. NAC has a high affinity for lung tissue, which it supports through mucolytic and antioxidant action. By disrupting disulfide bonds, NAC thins mucus. It is a powerful free radical scavenger and thus supports the body's natural defense system. NAC supports tissue levels of glutathione, a key component of the antioxidant defense system. It also has the ability to help chelate heavy metals.
NAC 900 mg.
Supplemental Facts
each vegetarian capsule contains:

n-acetyl-l-cysteine (free-form)

900 mg.

other ingredients: ascorbyl palmitate, vegetarian capsule (cellulose, water)
If pregnant, consult your physician before taking this or any other product.
1–2 capsules daily, between meals.