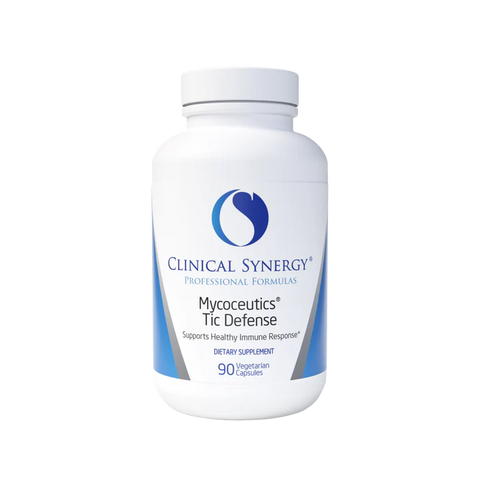 Mycoceutics Tick Defense 90 caps
Supports Healthy Immune Response*
Mycoceutics® Tick Defense contains four botanically-enhanced mushroom varieties that provide targeted immune benefits for vector-born health issues. The mushrooms in Mycoceutics Tic Defense are cultivated on a specialized blend of sixteen herbs that fortify the mushrooms with additional immune supportive and adaptogenic properties. The formula also includes Beta-1, 3-glucan (purified from Saccharomyces cerevisiae) for additional synergistic benefits and immune support.
Mycoceutics Tic Defense is an ideal daily formula for adults seeking comprehensive, broad-spectrum support for immune function and total-body wellness in the fact of vector-borne concerns.*
Targeted Benefits*
Promotes immune capacity and functionality
Supports energy, stamina, clarity, and functional ability
As a dietary supplement, take 3 capsules, 1-2 times per day, or as recommended by your healthcare provider.
MycoCeutics® MycoTic Proprietary Blend of Herbally Enhanced Mushrooms: Reishi (Ganoderma lucidum), Turkey tail (Trametes versicolor), Cordyceps sinensis isolate (Cordyceps sinensis), Shiitake (Lentinula edodes) - 1.9 grams
Beta-1, 3-glucan (purified from Saccharomyces cerevisiae) – 75 mg