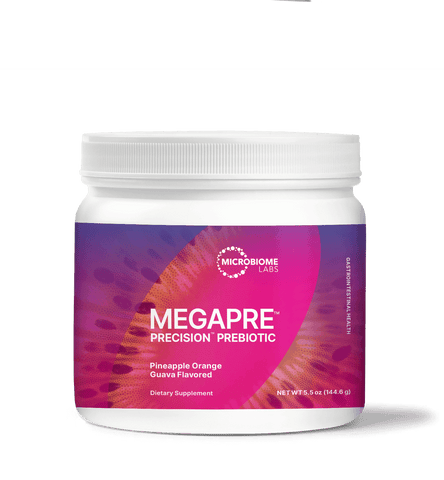 MegaPre Powder
MegaPreBiotic™ is the first Precision Prebiotic™ supplement made up of clinically-tested, non-digestible oligosaccharides that can increase microbial diversity and selectively feed beneficial bacteria like Akkermansia muciniphila, Faecalibacterium prausnitzii, and Bifidobacteria. MegaPreBiotic™
REINFORCES

the beneficial microbial changes created by MegaSporeBiotic™ to promote a strong and diverse microbiome.

MegaPreBiotic™ contains a proprietary blend of functional fibers that specifically feed these keystone bacteria. This unique blend is made up of clinically-tested-and-published, non-digestible oligosaccharides, derived from non-GMO green and gold kiwi fruit, non-GMO corn cob, and rBST-free cow's milk

The findings of these oligosaccharide studies are quite impressive:
FOS increased populations of A. mucin by 8,000% in 5 weeks
FOS increased populations of F. prau by 100% in 4 weeks
GOS increased populations of Bifido by 10% in 6 weeks
XOS increased populations of Bifido by 9% in 8 weeks
Increasing populations of these protective bacteria is an integral part of reinforcing a healthy gut microbiome.
Nourish the powerful ecosystem in your gut with MegaPreBiotic™ today!
Start with ½ scoop daily for one week, then increase to 1 scoop daily with or without food, or as directed by your healthcare practitioner. Mix into 16 oz of cold water or liquid of your choice.