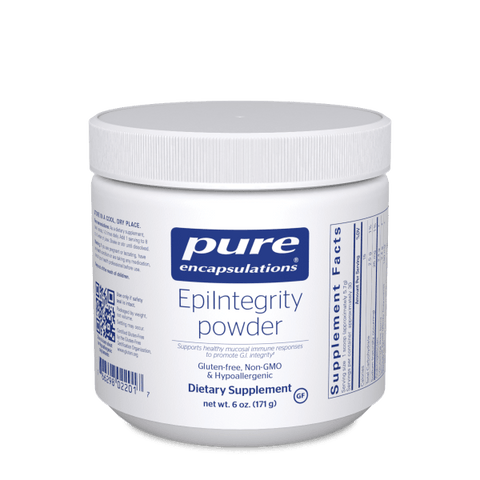 EpiIntegrity Powder Free shipping
Free ground shipping when the total order exceeds $100
Certified Gluten-Free by the Gluten-Free Certification Organization, www.gluten.org‡
Offers a unique broad-spectrum combination to promote healthy modulation of mucosal immune response to support G.I. integrity and function‡
Provides 2.4 g L-glutamine and 2.4 g arabinogalactan per serving
Great-tasting natural strawberry-lemonade flavored powder
Made with hypoallergenic, vegan ingredients
EpiIntegrity powder promotes broad-spectrum G.I. integrity support by targeting healthy modulation of mucosal immune responses, microbiome environment, mucosal protection, and epithelial cell health.‡
Supplemental Facts
each scoop (approximately 5.7g) contains:

calories

15

total carbohydrate

2.5 g

sodium (naturally occurring)

25 mg

arabinogalactan

2.4 g

l-glutamine (free form)

2.4 g

Benegut® Perilla (Perilla frutescens) extract (leaf)

150 mg

(standardized to contain 0.05% rosmarinic acid)

Astragalus (Astragalus membranaceus) extract (root)

200 mg

Deglycyrrhizinated licorice (Glycyrrhiza glabra) extract (root)

50 mg

other ingredients: citric acid, natural strawberry and lemonade flavors, malic acid, purified stevia leaf extract
Benegut® is a trademark of Vital Solutions GmbH, Germany
1 scoop, 1-2 times daily. Add 1 serving to 8 oz. of water or juice. Shake or stir until dissolved.