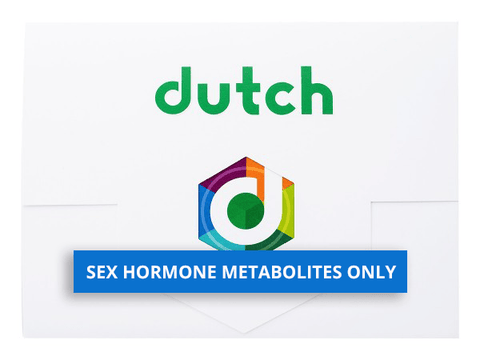 DUTCH Sex Hormone Metabolites (Male and Female)
DUTCH SEX HORMONE METABOLITES
The DUTCH Sex Hormone Metabolites is the ultimate test for HRT monitoring and great for baseline measurements as well. It is a unique method for more accurate vaginal hormone and oral progesterone monitoring.
GC-MS/MS: More accurate than LC-MS/MS or GC-MS for sex hormone metabolites!
This kit includes:
Easy directions and filter paper collection strips
Requisition form for patient information, pertinent supplements, medications, hormone replacement and a health questionnaire
Sealable return envelope
These results include:
Extensive Estrogen Metabolites: E1, E2, E3, 2-OH-E1, 2-Methoxy-E1, and more (8)
Extensive Androgen Metabolites: Testosterone, DHEAs, DHT, and more (7)
Progesterone Metabolites: b-Pregnanediol, a=Pregnanediol (2)
Graphical representation of results and embedded video tutorials to assist in the hormone assessment to share with your medical provider
For a complete hormone panel including Adrenal and Melatonin, click here to purchase the DUTCH Complete.
---
WE CANNOT TEST IN THE STATE OF NEW YORK, NEW JERSEY, MARYLAND OR RHODE ISLAND
INTERNATIONAL AND DOMESTIC ORDERS ARE ACCEPTED