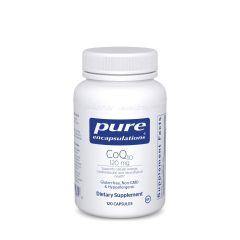 CoQ10 120mg | Free Shipping
Free shipping when total order exceeds $100
CoQ10 120mg from Pure Encapsulations:  
Supports cellular energy, cardiovascular and neurological health‡

Nutritional support for the cardiovascular system‡
Enhances cellular energy‡
Contains 100% natural, trans-isomer, fermented material
Made with hypoallergenic, vegetarian ingredients
CoQ10 provides support to enhance energy levels within cells to provide increased energy and exercise stamina. Enhanced energy from CoQ10 promotes nutritional support for the cardiovascular system.‡
CoQ10 120 mg
Supplement Facts
Each (size 0) vegetarian capsule contains:
Coenzyme Q10

120 mg

Other ingredients: hypoallergenic plant fiber (cellulose), vegetarian capsule (cellulose, water)
KanekaQ10® is a U.S. registered trademark of Kaneka Corporation.
1 capsule, 1-2 times daily, with meals.