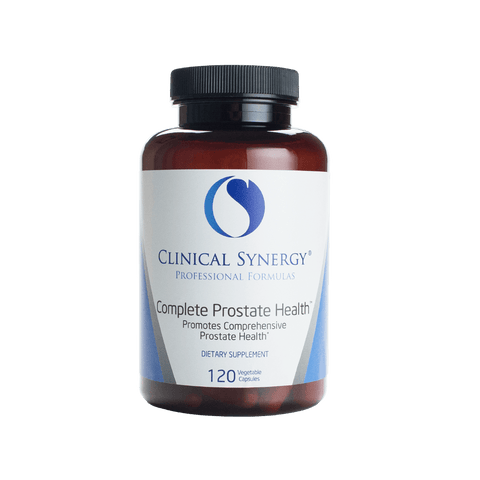 Complete Prostate Health
Scientifically Researched Prostate Health Support
Clinical Synergy® Complete Prostate Health is a comprehensive formula providing 33 beneficial ingredients including highly prized botanical compounds, botanically enhanced mycelium from organically grown medicinal mushrooms, vitamins, minerals and specialty nutrients. These standardized botanical extracts provide optimal concentrations of active ingredients.

Complete Prostate Health proprietary blend is clinically shown to promote healthy urinary flow in men. It targets hormone balance, liver, and immune defense along with prostate cellular health for complete support.*
Supports Prostate Cell Health*
Promotes Healthy Urinary Flow*
Helps Balance Hormones*
Gluten-free
Non-GMO
Promotes Comprehensive Prostate Health*
Complete Prostate Health is ideal for men of all ages who want to actively promote prostate health, hormone balance, immune and liver function.*
Complete Prostate Health delivers targeted benefits for prostate health and overall prostate function and is backed by extensive clinical use and published research.*

Natural Prostate Health Alternative*
Complete Prostate Health has been shown in multiple preclinical studies to promote favorable gene expression that supports healthy prostate cell division and growth. The formula features four proprietary blends that complement essential vitamins, minerals and specialty nutrients to provide targeted benefits for overall prostate health, including promoting removal of excess estrogens and xenoestrogens for healthy hormone balance, nourishing the liver and fortifying immune function.*
SUGGESTED USE
As a dietary supplement, take 1 capsule, 2 times per day with food, or as directed by your healthcare practitioner. Serving Size: 1 capsule

INGREDIENTS
Vitamin C (as calcium ascorbate, magnesium ascorbate) 16.7 mg
Vitamin D-3 (as cholecalciferol) 83 IU
Zinc (as dl-methionine, citrate) 1.6 mg
Selenium (as selenomethionine, sodium selenate) 16.7 mcg
Prostate Support Proprietary Blend 227.8 mg
(Turmeric Rhizome Extract (Curcuma longa, BCM-95®), Quercetin, Saw Palmetto Berry (Serenoa repens; 25% fatty acids), Grape Skin Extract (Vitis vinifera), Pomegranate Fruit Extract (Punica granatum, 40% ellagic acid), Chinese Smilax Rhizome Extract (Smilax glabra), Pumpkin Seed Oil Extract (Cucurbita pepo; 25% fatty acids), Pygeum Bark Extract (Prunus africana), Lycopene, Resveratrol (Polygonum cuspidatum root extract), Berberine
Immune & Hormonal Proprietary Blend 63 mg
(Stinging Nettle Leaf Extract (Urtica dioica), Alpha Lipoic Acid, Green Tea Leaf (Camellia sinensis; 45% EGCG, 95% Phenols, 70% Catechins), Astragalus Root Extract (Astragalus membranaceus), Citrus Bioflavonoid Complex, Eleuthero Root Extract (Eleutherococcus senticosus), Job's Tears Seed Extract (Coix lacryma-jobi), Chinese Golden Thread Rhizome Extract (Coptis chinensis)
Liver Support Proprietary Blend 39.2 mg
(Broccoli Flower and Stem Extract (Brassica oleracea), Skullcap leaf Extract (Scutellaria barbata), Chinese Skullcap Root Extract (Scutellaria baicalensis), Dandelion Herb Extract (Taraxacum mongolicum)
Herbally Enhanced Mushroom Proprietary Blend 41.7 mg
(Phellinus linteus, Coriolus (Trametes versicolor), Rehishi (Ganoderma lucidum)
Beta Sitosterol 25 mg
Diindolylmethane 12.5 mg
Boron (as rice chelate) 250 mcg
Other Ingredients: Vegetable capsule (natural vegetable cellulose, water), potato starch, silicon dioxide, L-leucine.

BCM-95® is a registered trademark of Dolcas Biotech, LLC. 

• Drug-Free • Gluten-Free • Vegan • No Artificial Ingredients • No Egg • No Fish • No Milk • No Peanuts • No Shellfish • No Soy • No Tree Nuts • No Wheat