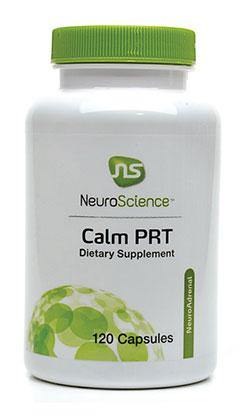 Calm PRT 60 or 120 Caps Free shipping
Free shipping when total order exceeds $100.
Rhodiola rosea counteracts/supports stress, mood, and cognitive function (Mao 2015, Pannosian 2010, Hull 2011, Olsson, 2009, Darbinyan 2000, Brown 2002)
Phosphatidylserine supports response to mental and physical stress (Monteleone 1992, Hellhammer 2004, Starks 2008)
Supplement Facts
Serving Size 3 capsules
Servings Per Container 40
---
 
Amount Per Serving
*%DV

Proprietary Blend

Rhodiola rosea root extract (15% rosavins), SerinAid® 50P (phosphatidylserine enriched soy lecithin**), Glycine, and Taurine

1.5 g

†
---
Other Ingredients: Microcrystalline cellulose, Vegetable capsules (HPMC, water), Silicon dioxide, and Magnesium stearate (vegetable source).
Contains lecithin from soy.
**This product uses SerinAid® (Phosphatidylserine enriched soy lecithin). SerinAid® is a registered trademark of Chemi Nutra.