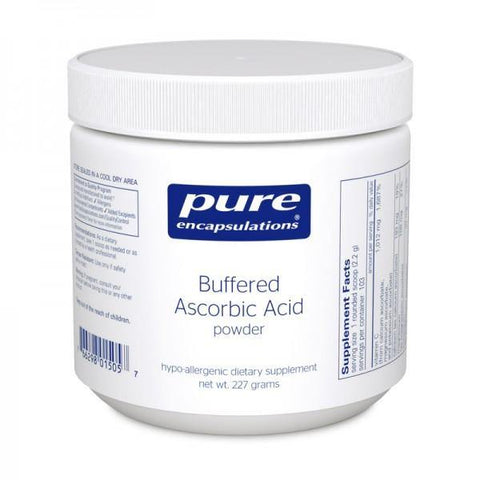 Buffered Ascorbic Acid Powder | Vitamin C (227 grams) Free Shipping
Free shipping when the total order exceeds $100.
Buffered Ascorbic Powder by Pure Encapsulations is a potent form of Vitamin C. 
Certified Gluten-Free by the Gluten-Free Certification Organization, www.gluten.org*
Supports gentle absorption of vitamin C*
Helps promote healthy immune and vascular system*
Made with hypoallergenic, vegan ingredients
Convenient powder formula for easy dispensing
Buffered Ascorbic Acid is a vitamin C dietary supplement formulated to lessen gastric irritation that may occur among sensitive individuals when consuming vitamin C.*
Vitamin C for sensitive individuals
*Buffered ascorbic acid combines calcium ascorbate, magnesium ascorbate, and potassium ascorbate to create a neutral pH vitamin C.
This special form of ascorbic acid lessens possible gastric irritation in sensitive individuals.
Buffered Ascorbic Acid powder
Supplemental Facts
one rounded scoop (2.2 g) contains:

vitamin C

1,012 mg.

(from calcium ascorbate, magnesium ascorbate and potassium ascorbate)

calcium (from calcium ascorbate)

193 mg.

magnesium (from magnesium ascorbate)

108 mg.

potassium (from potassium ascorbate)

33 mg.

Take 1 scoop as needed or as directed by a health professional.