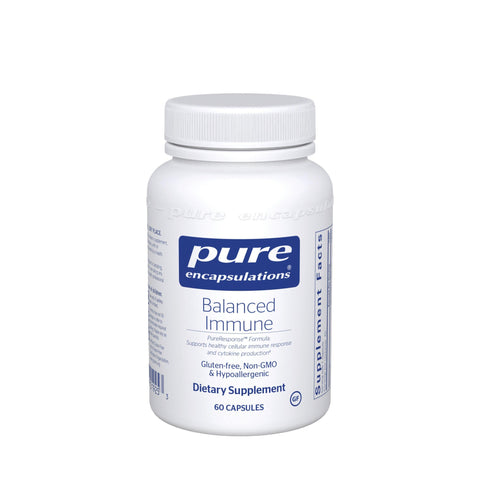 Balanced Immune 60 caps | Free shipping
Free shipping when total order exceeds $100
Balance immune from Pure Encapsulations is a fantastic daily supplement that supports key Th3 cells.  Th3 cells are crucial in autoimmune patients and help to balance Th1, Th2, and Th17 cells.
Part of the PureResponse™ Immune Protocol‡ for healthy immune balance and function‡
Contains a blend of resveratrol, enhanced-absorption curcumin, black ginger, broccoli, quercetin and vitamin D
Supports healthy self-tissue response, cytokine balance, liver function, and cellular protection‡
Promotes joint, gastrointestinal and thyroid function‡

Supplemental Facts
each vegetarian capsule contains:
vitamin D (as cholecalciferol)(D3)

25 mcg (1,000 IU)

Meriva® turmeric phytosome

200 mg

(Curcumin longa extract (root) and sunflower phospholipid complex)

(standardized to contain 18% curcuminoids)

broccoli (Brassica oleracea italica) sprout concentrate (whole plant)

150 mg

(standardized to contain 600 mcg sulforaphane)

trans-resveratrol (from Japanese knotweed (Polygonum cuspidatum) extract (root))

100 mg

SirtMax® black ginger (Kaempferia parviflora) extract (root)

50 mg

quercetin

60 mg

other ingredients: vegetarian capsule (cellulose, water), hypoallergenic plant fiber (cellulose)
Meriva® is a trademark of Indena S.p.A.
Phytosome More Bioavailable is a trademark of Indena S.p.A.
SirtMax® is a registered trademark of Tokiwa Phytochemical Co., Ltd.
1 capsule, 1-2 times daily, with or between meals, or as directed by a health professional.