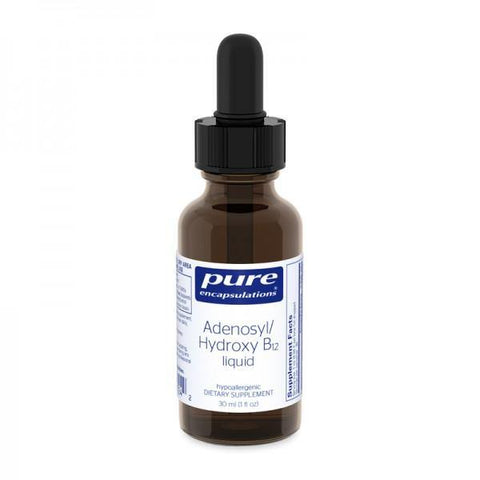 B12 Adenosyl/Hydroxy Liquid (1 fl oz) Free shipping
Free shipping when total order exceeds $100.
Offers vitamin B12 blend for nerve and mitochondrial support in liquid form*
Hydroxycobalamin is a precursor form of vitamin B12 converted in the body to both methylcobalamin and adenosylcobalamin. It is similar to cyanocobalamin without the cyanide moiety. Adenosylcobalamin is an activated form similar to methylcobalamin, which is found in the cytosol of cells and predominates in blood and other fluids. Adenosylcobalamin is the major form of vitamin B12 stored in the mitochondria of cellular tissues and is a key cofactor in carbohydrate metabolism for the enzyme methylmalonyl-CoA mutase used to produce succinyl-CoA. Optimal levels also support healthy synthesis of neuronal myelin.*
Unique liquid blend of adenosylcobalamin and hydroxycobalamin offers unmethylated B12 to promote nerve and mitochondrial health.*
Adenosyl/Hydroxy B12 liquid
Supplemental Facts
each dropper (1 ml / 0.03 fl oz) contains:
Vitamin B12 (as adenosylcobalamin and 50% hydroxycobalamin)

1,000 mcg.

serving size: one dropper (1 ml / 0.03 fl oz)
servings per container: 30
other ingredients: purified water, natural glycerin, citric acid, potassium sorbate
1 dropper, 1-3 times daily, with meals.