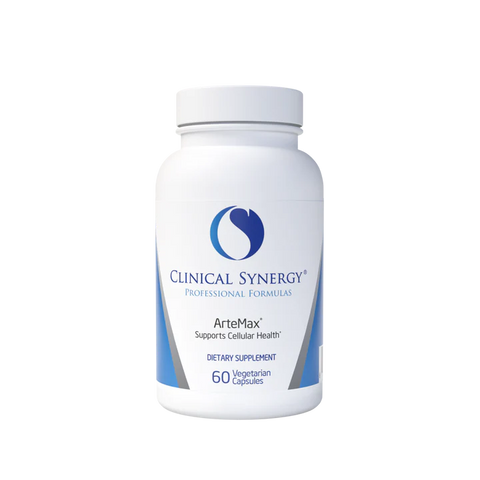 AreteMax 60 caps
ArteMax® is a unique blend of three forms of sweet wormwood (Artemisia annua):a highly purified Artemesia annua extract standardized to 98% artemisinin, a concentrated Artemesia annua extract (10:1), and a whole herb Artemesia annua powder. As the only natural source of artemisinin, Artemesia annua has a long history of use in traditional Chinese medicine to support immunity, digestive health and other areas. Bioperine® black pepper extract completes the formula as a natural bioavailability enhancer.*
ArteMax® is ideal for adults who want an advanced artemisinin formula with targeted benefits for optimal cellular regulation, immune function, and whole-body health. This product is best used in a pulsed regimen, with 7 days on and 7 days off, or 5 days on and 2 days off, similar to other artemisinin products and formulas*
Features artemisinin, shown in preclinical studies to promote healthy cellular function, and provide targeted immune support, in addition to other benefits.*
Formulated for enhanced absorption and synergetic effects beyond artemisinin alone*
Doctor formulated. Research driven. Quality tested. 
As a dietary supplement, take 2 capsules, 1-3 times per day with food, or as recommended by your healthcare practitioner. This product is best used in a pulsed regimen, with 7 days on and 7 days off, or 5 days on and 2 days off, similar to other artemisinin products and formulas. Consult your practitioner for detailed recommendations.*
Serving Size: 2 capsules
Fortified Artemisinin Complex Blend 1 g:
(Sweet Wormwood ( Artemisia annua ) 98% Artemisinin Extract, Sweet Wormwood ( Artemisia annua ) 10:1 Extract, Sweet Wormwood ( Artemisia annua ) Herb Powder. Total Artemisinin: 400 mg)
BioPerine® (Black pepper fruit extract,  Piper nigrum ) 2 mg
Other Ingredients: Vegetable capsule (natural vegetable cellulose, water), Coconut oil, Vegetable cellulose.

Allergen Warning: Product contains coconut oil.
• Drug-Free • Non-GMO • Vegan • No Artificial Ingredients • No Egg • No Fish • No Milk • No Peanuts • No Shellfish • No Soy • No Tree Nuts • No Wheat