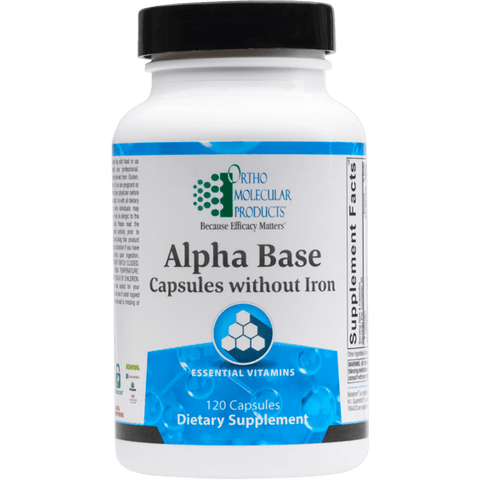 Alpha Base Without Iron
OVERVIEW
It is well-established that good nutrition promotes health, while nutritional deficiencies can lead to many chronic diseases. Yet, many people underestimate the importance of achieving proper levels of micronutrients each day. For the human body to complete vital daily tasks, it must be given a wide and complex variety of key micronutrients. Micronutrients play a role in strengthening immune function and converting food into energy. They detoxify chemicals and medications, and manufacture neurotransmitters, hormones and other key signaling molecules in the body. Micronutrients also maintain tissue repair and cell regeneration. Becoming deficient in any one of these essential vitamins or minerals can create a breakdown metabolic processes that safeguard health.
Comprehensive studies conducted by the United States Department of Agriculture have revealed the average American diet lacks micronutrients. Nutritional deficiencies may be caused by poor nutrient levels in the soil, food transport and storage methods, and food processing techniques. Whatever the reason, nutrient deficiencies exist in a substantial portion of the U.S. population and, for select nutrients, more than 80% of Americans consume less than the recommended daily allowance (RDA). Alpha Base is a superior multivitamin designed to support the ideal daily intake of vitamins and minerals by providing a high quality source of nutrients in the most bioavailable form.
Alpha Base is a comprehensive, hypo-allergenic, multivitamin and mineral blend. As a complete multivitamin, Alpha Base provides high-quality nutrients to build a healthy micronutrient reserve. USP* B vitamins support energy production and folate (as Quatrefolic™ - 100% 5-MTHF), the biologically active form of folic acid, improves methylation. Albion® TRAACS® chelated mineral complexes enhance bioavailability. Alpha Base includes an optimal 2:1 magnesium to calcium ratio. Key antioxidant vitamin C, natural vitamin E mixed tocopherols and carotenoids protect cells from free radical damage. Alpha Base also contains the synergistic blend of vitamin K2 (as MK-7) and D3 which are critical for supporting bone strength and cardiovascular health.
Suggested Use:
4-8 capsules per day with food or as recommended by your health care professional
Supplement Facts
Serving Size 4 Capsules Servings Per Container 30 & 60
Amount % Daily Per Serving Value
Vitamin A
(from 7,500 IU as Natural Beta Carotene, Palmitate)
Vitamin C
(as Calcium Ascorbate USP, Ascorbic Acid USP)
Vitamin D (D3 as Cholecalciferol)
Vitamin E (from 100 IU as d-Alpha Tocopherol Succinate USP)
Vitamin K (K1 as Phytonadione)
Thiamin (Vitamin B1) (from Thiamine Hydrochloride USP)
Riboflavin (Vitamin B2 USP)
Niacin (as Niacin USP, Niacinamide USP)
Vitamin B6 (as Pyridoxine Hydrochloride USP)
Folate (from 400 mcg as Quatrefolic® (6S)-5-Methyltetrahydrofolic acid glucosamine salt)
Vitamin B12 (as Methylcobalamin)
Biotin
Pantothenic Acid (as d-Calcium Pantothenate USP)
Choline (as Choline Bitartrate)
250% 556%
(1,000 IU) 125% 447% 42% 2,083% 1,923% 156% 2,176% DFE 170%
20,833% 667% 3,000% 3% 8%
75% 48%
91% 182% 111% 109%
571% 56%
1%
25 mcg 67 mg 50 mcg 25 mg 25 mg 25 mg 37 mg
680 mcg
500 mcg 200 mcg 150 mg
19 mg 100 mg
112 mcg 200 mg
10 mg 100 mcg
1 mg 2.5 mg
200 mcg 25 mcg
50 mg
Calcium (as DimaCalTM Dicalcium Malate,
Calcium Ascorbate USP, d-Calcium Pantothenate USP)
Iodine (from Kelp)
Magnesium (as DiMagnesium Malate,
TRAACSTM Magnesium Lysinate Glycinate Chelate)
Zinc (as TRAACSTM Zinc Bisglycinate Chelate) Selenium (as Selenium Glycinate Complex)
Copper (as TRAACSTM Copper Bisglycinate Chelate) Manganese
Chromium (as O-polynicotinate)‡
Molybdenum
(as TRAACSTM Molybdenum Glycinate Chelate)
Potassium (as Potassium Citrate USP)
(as TRAACSTM Manganese Bisglycinate Chelate)
Inositol NF
Mixed Tocopherols
Rutin
Boron (as Bororganic Glycine) Vanadyl Sulfate Hydrate
Vitamin K2 (as Menaquinone-7 (MK-7)) (MenaQ7®PRO)
50 mg * 50 mg * 25 mg *
1.5 mg * 1 mg * 12.5 mcg *
* Daily Value not established.
Other Ingredients: Hypromellose (Natural Vegetable Capsules), Stearic Acid, and Magnesium Stearate.