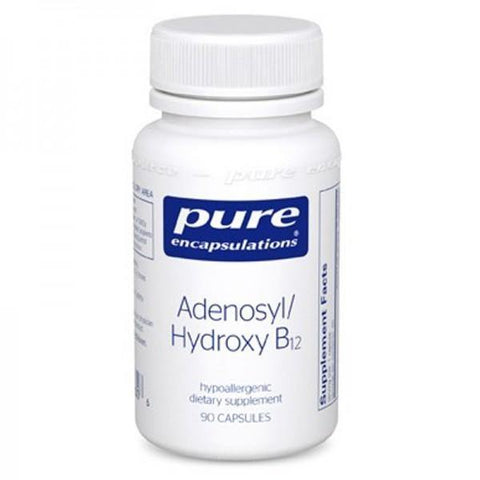 Adenosyl/ Hydroxy B12 (90 caps) Free shipping
Free shipping when total order exceeds $100.
Certified Gluten-Free by the Gluten-Free Certification Organization, www.gluten.org‡
Nerve and mitochondria support‡
Made with hypoallergenic, vegan ingredients
Adenosyl/Hydroxy B12 is a vitamin B12 blend formulated for nerve and mitochondrial support. Adenosyl/Hydroxy B12 helps support carbohydrate metabolism for the enzyme methylmalonyl-CoA as well as the synthesis of neuronal myelin.‡
Adenosyl/Hydroxy B12
Supplemental Facts
each vegetarian capsule contains:
vitamin B12 (as adenosylcobalamin and 50% hydroxycobalamin)

2,000 mcg

other ingredients: hypoallergenic plant fiber (cellulose), vegetarian capsule (cellulose, water)
1 capsule, 1-3 times daily, with meals.