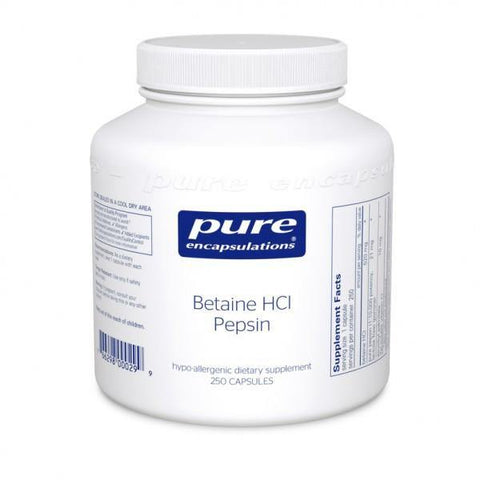 Betaine HCL Pepsin 250 caps Free shipping
Free shipping when the total order exceeds $100.
Supports a healthy digestive tract*
Promotes absorption of protein, calcium, vitamin B

12

 and iron*
Made with hypoallergenic ingredients
Betain HCI Pepsin promotes healthy digestive function. Betain HCI Pepsin may help stimulate digestive function and absorb nutrients; specifically protein, calcium, vitamin B12 and iron.*
Betaine HCl Pepsin
Supplemental Facts
each vegetarian capsule contains:

betaine HCl

520 mg.

pure pepsin

21 mg.

(1:10,000 potency, lactose free) (porcine)

other ingredients: hypoallergenic plant fiber (cellulose), ascorbyl palmitate, vegetarian capsule (cellulose, water)
1 capsule with each meal.